Pioneering Cartilage Restoration Surgery - DeNovo NT
FOR IMMEDIATE RELEASE: NATURAL TISSUE GRAFT 1st IN SOUTHEAST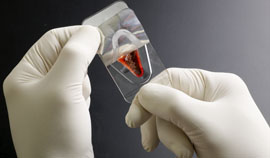 2009. The first DeNovo Natural Tissue graft cartilage transplant in the Southeastern United States was performed at Emory-Adventist Hospital at Smyrna in Atlanta, Georgia under the direction of surgeon Jon Hyman, MD.

DeNovo NT (Natural Tissue) is a living cartilage implant designed to repair the knee. The process uses donated juvenile tissue (under age 12). In the lab, the pediatric cartilage is shown to have greater rejuvenation ability than that of adult cartilage.
The unique surgical technique simplifies the implantation of cartilage tissue as compared to other established surgical protocols that typically involve plastic or metal implants. The natural tissue has been in use in humans since May 2007, with thousands of cases performed nationwide. There are limited reports available in the medical literature. See links below.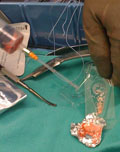 Dr. Hyman states, "The DeNovo cartilage transplantation procedure may be a real breakthrough for patients with cartilage problems. Using donated pediatric cartilage to repair defects in adults is a novel idea and the early results show promise in relieving pain and improving function." Call (770)363-8770 for more information.

Dr. Hyman is board certified in Orthopaedic Surgery with an expertise in Sports Medicine. He also serves as the Medical Director of the Hip Arthroscopy Center at EAH.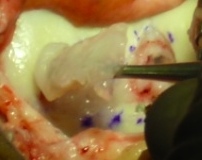 Laying graft in defect
The DeNovo NT (Natural Tissue) is a product of unaltered human cartilage. Since it is not changed mechanically or chemically, it is not considered as a 'device' by the FDA. This is in distinction from DeNovo ET (Engineered Tissue) which is currently in clinical trials. Tissue availability can be limited. The indications for the procedure are contained cartilage defects, generally in areas were we don't have other good solutions, ie Patella (knee cap) and the femoral trochlea or tibia.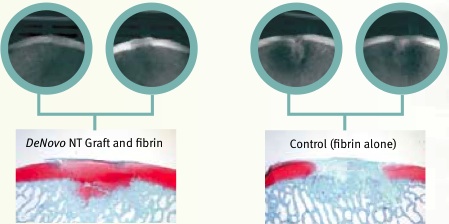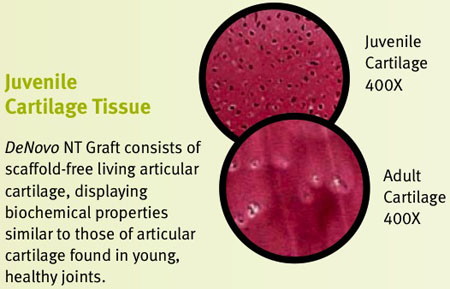 ---
Zimmer Physician Listing for Surgeons who perform DeNovo NT
1. Bonner KF, Daner W, Yao JQ. 2-year postoperative evaluation of a patient with a symptomatic full-thickness patellar cartilage defect repaired with particulated juvenile cartilage tissue. J Knee Surg. 2010 Jun;23(2):109-14.

2. Hatic SO 2nd, Berlet GC. Particulated juvenile articular cartilage graft (DeNovo NT Graft) for treatment of osteochondral lesions of the talus. Foot Ankle Spec. 2010 Dec;3(6):361-4.